The Rally in the 100 Acre Wood is quickly approaching. We want to take this opportunity to thank everyone that has volunteered their time to work the rally. Every year this event requires hundreds of volunteers to be successful, and without you, we could not do it.
This contains important information, so please read it completely.
If, for some reason, you are unable to work as planned, please reply to this e-mail and let us know ASAP. With much shorter stages and less stages and no spectator points to staff, we have PLENTY of people, so if you have other commitments, just let me know ASAP and don't feel bad about bowing out (well, unless you are a medical volunteer!).
Most of the assignments have been completed in the system. You can view your tentative assignment by logging back into http://www.rallymasterpro.com. After logging back in, click on "workers" at the top, and then the "Details" link on each day you volunteered for to see your assignment. Bear in mind, these are TENTATIVE, and could change prior to your check in at the event.
If you are getting this e-mail then you are successfully registered in Rallymasterpro. But everyone needs to be registered also at http://rallylicense.com , so make sure you do that BEFORE you arrive at check-in. Parents need to complete the online registration at rallylicense for any minors and complete the minor waiver there.
Furthermore, all workers will be required to complete an online Covid questionnaire within a few days of the event. Look for an e-mail from me on Tuesday with the link and instructions to complete that.
The Rallylicense.com and online COVID-19 Survey MUST BE COMPLETE BEFORE YOU ARRIVE IN SALEM!
Some details relevant to workers have been posted at this private url: https://rally101.100aw.org/100awrallydetails/ (with a password of "pooh"), it contains some limited information about marshaling and radio frequencies, etc. You will be provided copies of the items you need when you check-in, but you may also use the documents here to review or prepare in advance. If you are new to the rally, there is a document that you might find useful, it is titled "Intro For New Worker" (in the Worker Documents folder) and contains some basics on rally terminology, etc. Bear in mind that document has some references that might not apply this year due to Covid, etc.
Videos: If you are assigned as a course marshal (your assignment shows M###, i.e. M followed by some numbers), and if you haven't already viewed our training videos, please do so. The Course Marshal video can be viewed here: https://youtu.be/P0KKKvabmQY
WORKER CHECK-IN:
All workers must check-in in Salem. The check-in location is 200 S. Main Street, Salem, MO. The location is the old Salem Chamber of Commerce. Check-in will be completed in your car, so stay in your car and follow the line. Note the map below of our desired traffic pattern to avoid cars backing up on to S. Main (which is also busy State Highway 19). You don't need to check-in each day, just one time before your first assignment.
Check-In Hours:
Thursday 4pm – 8pm
Friday 7am – 9:30am
Saturday 6am – 7:30am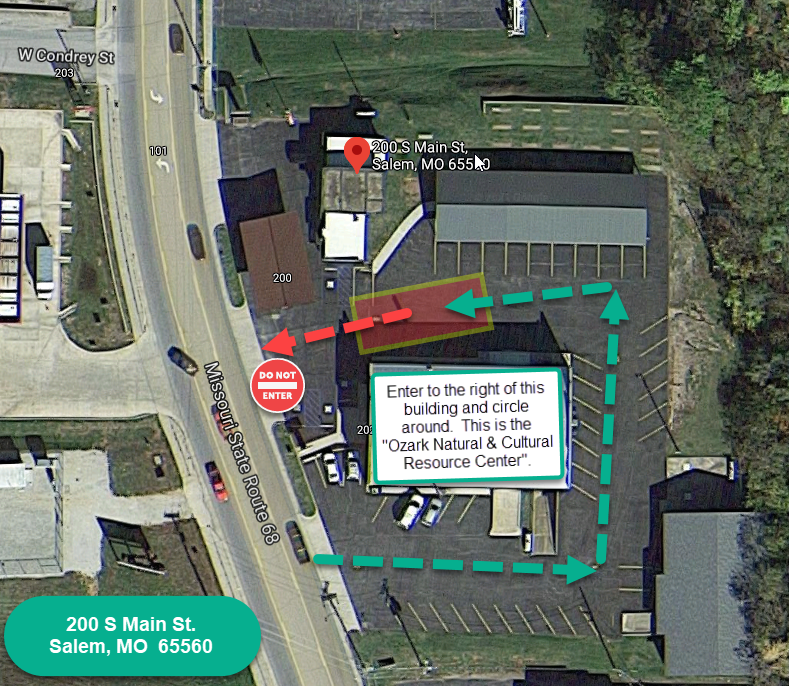 We will be providing bag lunches for the workers on Saturday, and we will have some 100aw merchandise for sale at the worker registration location.
Thanks again, and we will see you at Check-in in Salem!
Randy Stroede
Volunteer Coordinator
Rally in the 100 Acre Wood